My love of language, medical and otherwise, has led me to many interesting places academically and professionally. I am deeply interested in medical language, clinically and metaphorically, and I have had the opportunity to work with this concept by writing textbooks and facilitating writing programs for patients and healthcare professionals.
As a Community College of Vermont Faculty member since 2009, I have primarily Medical Terminology in a variety of formats including asynchronously online, synchronously in-person and online, hybrid, and other formats such as accelerated and flex modalities.
I have also taught Administrative and Clinical Medical Assisting courses and supervised Clinical and Administrative Medical Assisting internships.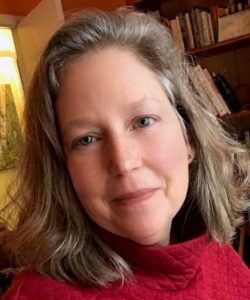 In addition to teaching for CCV, I have taught for Goddard College in the Education and Licensure and the Health Arts and Science programs. I also had the opportunity to develop and facilitate the Greater Phoenix Area's Young Adult Writing Project for Arizona State University. For the last twenty-five years or so, I have been immersed in medical terminology as well as teaching. I have recently completed the revision of Basic Medical Language and will begin the revision of Exploring Medical in early 2023.
Textbook writing is such a creative process! I love thinking about the content and how best to serve the student new to medical language. I have also had the opportunity to design instructor's materials, build test banks, review online courses, design learning games, and create companion websites. It has been an engaging curriculum development process, which provides an excellent opportunity to practice what I know about learning and teaching.
In addition to writing and teaching, I am a full-time mother of two beautiful daughters. I have an understanding of the balancing act required to meet professional, academic, and family responsibilities. And though I am thoroughly dedicated to my academic and professional roles, being a parent brings so much joy.
Publications: Lead author of Exploring Medical Language and Basic Medical Language published by Elsevier Science.