Thank you for coming over from the Medical Terminology Blog!
Whether you are in high school, retired, or in between, we believe knowing the language of medicine is beneficial.
This course is ideal if you are:
Planning on a career in healthcare and want an introduction to the field and common vocabulary
Working in health care and want to advance up the career ladder
Entering a pre-med or pre-nursing program and want a foundational understanding of medical terms
Employed in a business that deals with medicine and healthcare, such as insurance, medical equipment, pharmaceuticals, or law
Enhancing your resume to show depth of skill
Interested in your health care and believe knowing medical terms will improve communication with your doctor as well as help you understand your medical records and medical coverage
A life-long learner who loves language and wants to enhance your vocabulary
This self-paced course guides you through 12 lessons from the text book Basic Medical Language.
Each lesson presents word parts, medical terms, and abbreviations by body systems.
Content is introduced in manageable amounts followed by exercises and online practice activities.
An estimated course completion time is 32 hours.
You can use the answer key to check answers to the textbook exercise and immediate feedback is provided for all online activities.
Many varied activities are offered, so you can choose learning activities to fit your learning style.
A quiz is available at the end of each lesson. A passing grade of 80% is required to receive a certificate.
An interactive medical terminology course based on a leading textbook by
Danielle LaFleur Brooks, Dale Levinsky, and Myrna LaFleur Brooks.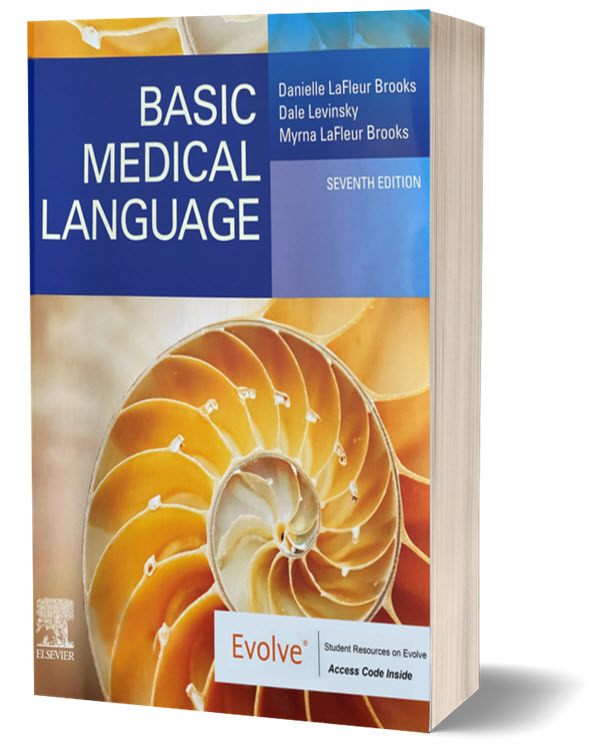 Basic Medical Language, 7th Edition, Elsevier, is included with the enrollment fee. Flashcards and an online program that offers pronunciation and spelling, games, animations, and practice quizzes accompany the textbook.
Basic Medical Terminology Course
An Online Course with Textbook
Receive a textbook and flashcards within 5-7 days of enrollment

Access author support for three months

Obtain a Certificate

Advance through the course at your own pace

Study where and when you want
Who Is Offering This Course
Innovative Leaders in Medical Terminology for Over 40 Years
Myrna and Danielle have been involved with teaching medical terminology since 1970. They researched and wrote the original classic textbook on medical terminology, Exploring Medical Language (11th edition), followed up with the popular Basic Medical Language (7th edition) textbook.
Their combined educational backgrounds and teaching experience have led to the carefully crafted learning system used in both textbooks. 
Throughout the years, Myrna and Danielle continued to add features and benefits to teaching medical terminology. Content now includes a medical terminology blog and this new website, The Medical Terminology Academy.
All teaching items are designed with the student foremost in mind.
Millions of students have enjoyed these textbooks and the medical terminology blog, and we look forward to expanding the understanding and use of medical language with the Medical Terminology Academy.
Thank you so much for all your hard work in putting this great textbook together. I have never enjoyed learning so much; I dread coming to the end of the book. The pictures, numerous exercises, flashcards, and online resources, including games, have all been wonderful tools for aiding memory and retention in a fun and interesting way.
Thank you for your dedication to high-quality learning. Your work is appreciated.
Kate Ragga
Receive the textbook, Basic Medical Language, flashcards, and access to the Online Medical Terminology Course with your enrollment fee.
Basic Medical Terminology Course
An Online Course with Textbook
Receive a textbook and flashcards within 5-7 days of enrollment

Access author support for three months

Obtain a Certificate

Advance through the course at your own pace

Study where and when you want
Try it for full 30 days, 100% risk-free
Guarantees can be complicated. But not this one. My promise is simple – if our program doesn't help you get unstuck and make constructive progress, write to us within 30 days. We will offer you a 100% refund on your purchase.
It's risk-free, no questions asked and there's no fine print involved.
Frequently Asked Questions
How long does it take to complete the course?
The course is self-paced, so you can decide how long it will take. It is designed to complete in 32 hours, but many factors are involved in determining this – internet speed, prior knowledge of the medical language, digital skills, and so forth.
Do I receive college credit for this course?
Medical Terminology Academy does not offer college credit; however, the course syllabus and certificate of completion are printable for you to present to your school or employer to demonstrate your completion of the course and its content.
How do I receive my certificate?
Once you complete the 12 Lessons and have passed the lesson quizzes with an 80% average, an option will appear on your computer screen to enable the printing of your certificate.
Is there a fee for my certificate?
No, and you can print as many copies as you wish.
How do I take the quizzes?
You access the quizzes from your course site. You may take each quiz as often as you want. Your highest score will be recorded. Taking the quiz is optional. However, if you wish to receive a certificate, you must receive an average of 80% or more score on all lesson quizzes.
Will taking this course prepare me to take other medical or health-related courses?
When entering a new field of study, knowing its language is beneficial to accelerate the learning of course content. The basic medical language you will acquire by completing this course should prepare you for accelerated course learning in whatever medical or healthcare field of study you are embarking on.
Also, medical terminology is often a prerequisite for other healthcare courses, such as anatomy and physiology, pharmacology, and medical ethics. This course may fill this requirement. 
Discover the fascinating world of medical language and begin adding medical terms to your vocabulary.